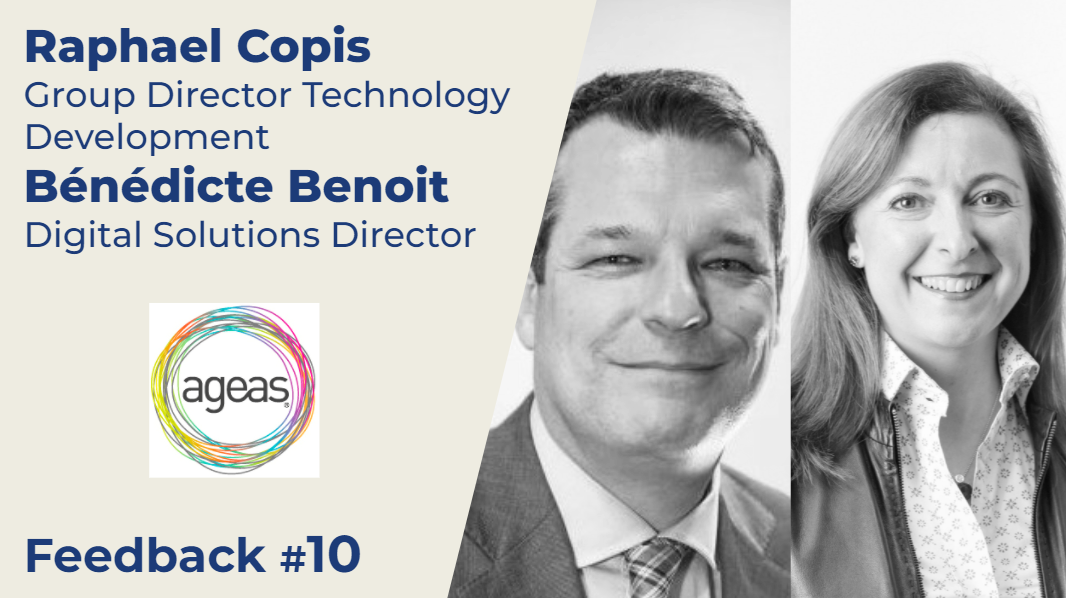 Feedback #10 | Raphael Copis and Bénédicte Benoit, Ageas
24/02/2022 par Contribution INR
Raphael Copis, Group Director Technology Development et Bénédicte Benoit, Digital Solutions Director at Ageas, share with us the company's commitment to Sustainable IT in action.
| First of all, could you introduce us to AGEAS?
Ageas is an international insurance Group with a heritage spanning almost 200 years with a presence in 14 countries across Europe and Asia. We offer Life and Non-Life solutions to millions of Retail and Business customers, helping them to manage, anticipate and ensure their risks through a wide range of products designed for their needs both today and in the future. Ageas has developed long term partnerships with market-leading local financial institutions and distributors in the countries in which it operates. For Ageas, local autonomy of operating companies is key, to remain close to and efficient on their local market. This allows us also to stay very close to our customers.
As one of Europe's larger insurance companies, Ageas is the No.1 insurer in Belgium and ranks among the market leaders in most of the countries in which we operate. With a total workforce of around 45,000 people (including the non-consolidated partnerships), we are present in Belgium, the UK, France, Portugal, Turkey, China, Malaysia, India, Thailand, Vietnam, Laos, Cambodia, Singapore, and the Philippines.
In 2020, Ageas reported annual inflows close to EUR 36 billion (at 100%). Ageas is listed on Euronext Brussels and is included in the BEL20 index.
| How is your commitment to sustainable IT reflected in your CSR policy?
Sustainability sits at the heart of our company and it's one of the key pillars of our new Impact24 Strategy. This means that we are taking actions in every department towards a more sustainable business practice, and towards a more sustainable future.
IT Operations are key to a positive business outcome, and we are encouraging all layers of our business to have a Sustainability mindset.
| Why did you sign the Sustainable IT Charter?
Sustainability represents one of the main pillars of our strategy Impact24. We offer our customers solutions that help address environmental and societal issues and we support them in their transition towards a more sustainable way of living.
At the same time, we continuously look for ways to make our own operations more sustainable. The signing of the ISIT charter reinforces this commitment and, by doing it, we publicly underscore our aim to become one of the most ESG responsible insurers in the market.
| What sustainable IT actions have you put in place that you are particularly proud of?
We have already started several important initiatives including among others the creation of a dedicated "ESG in IT" taskforce. One of the first actions initiated by this taskforce in 2021 was the positioning of all entities on a framework designed to evaluate our current ESG maturity in IT against 19 dimensions. We also conducted a first measurement of our CO2 emissions by the IT departments in operating companies of Ageas.
By combining the knowledge and challenges that all our Heads of IT come across in Ageas operating companies, we can address the issue from multiple cultural perspectives. This allows us to achieve a more comprehensive understanding of the benefits and challenges our actions can bring to our group.
| How does your organisation contribute to the dissemination of sustainable IT issues and good practices to your external stakeholders ?
Thanks to this assessment, we've been able to engage in four group-led initiatives towards a more responsible IT practice:
Including sustainability as a purchasing criterium.
Creating IT awareness amongst employees.
Aligning and extending the lifetime of equipment.
Developing an aligned e-waste policy.
Of course, specific local initiatives are started as well in operating companies. And these local approach and best practices are shared at group level for learning and inspiration purpose.
| What are the main difficulties you encounter ?
Given the autonomy we offer our subsidiaries and affiliates in Europe and in Asia, processes at group level can become long and tedious, as group alignment on common goal, approach and projects is key. Our aim is to provide the starting point for all the Operating Companies with a top-bottom approach, helping them to reach business objectives with sustainability in mind. That can sometimes be challenging, because each country presents its own local technological landscape, regulations, and local governance bodies, so a one-size-fits-all approach may sometimes not be the best solution: it needs to be adapted. As well, when our strategies require us to work with external partners, those partners need to be found at local level, so the process of research, due diligence and partnership must also be carried out locally.
Discover Ageas : https://www.ageas.com/
Interview by Bastien DUCRUEZET
Responsible for the animation of the network of signatories of the Sustainable IT charter